---
Our UltraFire clear coating provides Class 1 and Class 0 Fire Ratings. It can be used indoors or outdoors.
UltraFire is easy to apply by brush or spray, has no smell and does not change most timber colours. It is a clear thin liquid with no handling hazards. It is to be applied to bare, dry timber and it gives the wood fire resistance to Euro Class B, which is above our UK Classes 1 and O.
Tested to EN13501 Parts EN13823:2002 (SBI) and EN11925-2:2002 to achieve BS476 Class 1 and 0, Euro Class B sI d0.
Always apply a test patch of Ultrafire to check for timber colour change - there may be some darkening.
Click here to look at the product, check prices and Order in our Fire Paint Shop
---
Benefits of UltraFire Clear Wood Treatment:
* water based, so easy to apply to wood in a workshop, or installed on a building
* no smell, no hazards for the labour force
* no solvents, does not affect other materials
* thin coats by brush, spray or dip, so rapid drying between coats
* no vapour left behind, safe in a workshop environment
*indoor or outdoor use, one product for both applications
*non-irritant, no hazard rating required, only basic safety equipment required - eye protection, gloves, water droplet mask, coveralls and boots.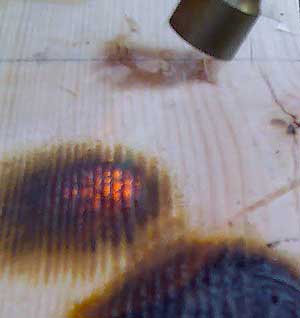 Testing Fire Retardant coatings on wood: no flames are produced.
---
Our unique Fire UltraFire Retardant Certificated Offer
Give us your Wood area dimensions and you can have by telephone, fax or E Mail:
- an instant fixed price Quotation to include a Fire Certificate of Supply, Delivery and detailed Specification
- a Building Inspector ready document set, with Data Sheet, for his or her approval
- free product support by telephone before, during and after application, to ensure that you meet the Fire Regulations
Don't get caught out by just buying any old Fire Retardant - use our Free Service and get it right first time.
---
Timber Products that can be UltraFire coated:
Softwoods, Hardwoods - sawn, planed or sanded - apply 3 coats, to bare timber
Timber Board Products - MDF, Chipboard, Plywood, Blockboard, Particle Boards - apply 3 coats, to bare surfaces
---
Typical Ultra Fire Retardant Coverage:
UltraFire Clear Wood Retardant - 10 square metres per litre, per coat, 3 coats to achieve 3.3 square metres per litre total.
---
UltraFire Prices, Discounts and Delivery:
Prices - call 01626 872886 for full details
Discounts and Trade Sales - call us for details
Delivery - same day despatch, Next Day Service, UK Mainland - from £10 plus VAT
---
UltraFire is a suitable Fire Retardant clear coating for :
1. Fire Protection of Softwoods, Hardwoods, MDF, Chipboard, Bamboo
2. Interior and Exterior Fire Protection: decking, bar-tops, panelling, cladding and floors.
3. Fire Protection of existing all timber unpainted surfaces.
4. Meeting Fire Regulations for Exhibition Stands, Shopping Centre Kiosks, Night Club Bars, Restaurant Bars, Shop Fixtures, Shop Shelving, Display Boards
Do not apply to timber at over 25% WME Moisture Content - allow to dry out first.- ask us for a suitable Meter to measure the Wood Moisture Equivalent.
---
Speak to: us now for free help and immediate pricing - Tel: 01626 872886
Fire Certificate of Supply
Certificates for: Class O and Class 1, for wood and timber based products
Colours: any water based stain can be used
Finishes: matt, may leave a slight natural greying effect on some timber types - test a sample if concerned.
---
ULTRAFIRE TEST STANDARDS - there are two relevant fire test standards
Class 1 - requires no surface spread of flame.
This is the Standard normally required for walls and ceilings.
Class 0 - is an additional level of protection for walls or ceilings where limited combustibility is required in high-risk areas, such as escape routes.
To comply materials must have a Class 1 Surface Spread of Flame and low fire propagation index in accordance with BS 476 Part 6. This test checks that the coating does not add to the heat or intensity of the fire.
---
ULTRAFIRE CERTIFICATION - why you will need a Certificate of Supply
A Fire Certificate of Supply can be issued for each Project. This is essential if you have to satisfy your Insurers, the Fire and Building Control Authority and for Client Records. Without a Fire Certificate of Supply you may be vulnerable to prosecution in the event of a fire. We cannot issue a Fire Certificate of Supply if we have not produced a Specification in the first place, so please do not buy UltraFire without asking for a Specification.
---
Free Advice - we supply free specifications and product quotations
Speak directly to us about your Fire Retardant needs: 01626 872886
Please do not take a risk and simply buy products without a clear specification from an expert. You may not be able to obtain an UltraFire Fire Certificate of Supply in those circumstances.
---
I Timber Paint I Wall and Ceiling Paint I Clear Varnishes I Top Coats I Fire Doors I Uses I
I Steel Paint I Over Coating Old Paint I Loft Conversion I Colour Charts I Home Page I
---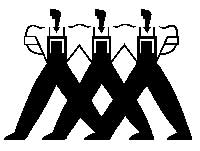 Property Repair Systems
TEL: 01626 872886
E: help@propertyrepairsystems.co.uk
---
Contact | Privacy Policy | Returns Policy | About the Author
---
Site written by: David Moore
David Moore, B.A. (Hons.), C.T.I.S., C.R.D.S. Technical Author
Google+
---