---
Fire Retardant Clear Varnish - provides fire resistance to Classes 1 and O, plus 30 Minutes Fire Penetration, plus European Standard BS EN Class B s1 dO.
Our Fire Retardant Intumescent Varnish is clear, easy to apply and has no smell once cured. It should be overcoated with our Flame Varnish to give a satin or matt finish.
Warnings - do not apply over existing paint or varnish. May cause some timbers to yellow slightly - mix a small amount and apply to a test area before mixing a whole pack. Inadequate surface preparation can lead to 'cissing' - a defect in which freshly applied paint or varnish recedes from the surface leaving small craters or bare areas. The usual cause is a water repellent surface due to an existing coating (oil, wax, paint, varnish etc.) or a lack of surface cleaning. Always test a small patch before proceeding - allow the product to fully dry, apply the top coat(s) and then check for finish and colour before proceeding with the whole area.
Click here to see the product, check prices or order from our Shop
---
Fire Retardant Varnishes - Intumescent Base coats, Flame Varnish Finish coats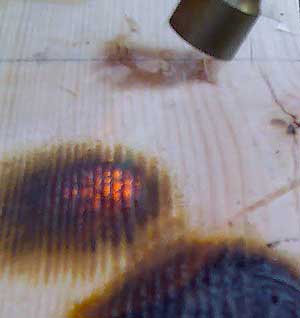 Applying clear Fire Varnish to a door.
Transparent, Intumescent base coat Varnish for timber and timber product boards, panels and fire doors. Clear finish Flame Varnish in satin or matt. Fire Varnish can be used as part of a door upgrade to FD30.
* water based Intumescent coating
* no smell once cured and overcoated with Flame Varnish
* no solvents
* thin coats only required
* low VOC, low odour finish coat
Click here to see the product, check prices or order from our Shop
---
MOST FREQUENTLY ASKED FOR EXAMPLE - QUICK SPECIFICATION SECTION - read more below, if this section does not describe your problem door(s) exactly.
---
FIRE RETARDANT VARNISH - CLEAR FINISH
The most Frequent Request is for a 20 or 30 Minute Fire Door Upgrade - clear Varnish Finish
Apply 3 Coats of Intumescent Varnish followed by 2 coats of Flame Varnish - Matt or Satin Finish - supplied in 20 square metre per coat packs
Calculate your needs - coating each door on one side only, for indoor use, for a 35mm thick door with 16mm thick panels, allow an average of 1.5 square metres area per door, including edges.
Order - Intumescent Fire Varnish, Flame Varnish Finish, plus choose a Door Essentials Kit.
Click here to see the product, check prices or order from our Shop
---
Our unique Flame Retardant Clear Varnish Offer
Give us your Fire Varnish area dimensions and you can have by telephone, fax or E Mail:
- an instant fixed price Quotation to include a Fire Certificate, Delivery and detailed Specification for your Fire Varnish needs
- a Building Inspector ready document set, with Data Sheet, for his or her approval
- free product support by telephone before, during and after application, to ensure that you meet the Fire Regulations
Don't get caught out by just buying any old Fire Paint or Fire Varnish - use our Free Service and get it right first time.
Click here to see the product, check prices or order from our Shop
---
What to Buy as a Fire Varnish: click USES to determine the number of coats or call us on 01626 872886 .
Fire Intumescent Varnish - apply 1 to 3 coats, according to the Fire Standard required by your Building Inspector.
Fire Flame Varnish Finish - apply 1 to 2 coats, over the Intumescent Varnish, to give a satin or a matt finish and to protect the intumescent varnish from wear.
Click here to see the product, check prices or order from our Shop
---
Typical Coverage for Fire Varnishes: click SHOP to see the details
In the smallest pack sizes:
Intumescent Varnish - 6.5 square metres per litre, 20 square metres per 3 litre pack (with added warm water), per coat.
Flame Varnish Finish - 12 square metres per litre, 20 square metres per 1.7 litre pack, per coat.
---
Fire Varnish Prices, Discounts and Delivery: call 01626 872886 for full details
Prices - some prices are lower than given above when purchased in larger pack sizes, see SHOP to see the details
Discounts and Trade Sales - call us for details
Delivery - Same day despatch, Next Day Service, UK Mainland - £10 plus VAT
Click here to see the product, check prices or order from our Shop
---
Fire Varnishes are suitable For:
1. Fire Door conversion of Solid Doors made of Softwoods and Hardwoods
2. Interior and Exterior Fire Door and wood panelling upgrades and conversions
3. Fire Door conversion of existing doors with painted surfaces, varnished finishes, stained doors or bare, unfinished new or old wood.
4. Applying over existing clear finishes, white finishes or coloured finishes to create a Fire Door
5. Fire Doors and timber panelling for Loft Conversions, Hotels, Boarding House, Flats.
6. Fire Doors, and door upgrades to modify existing solid wood doors to 30 minutes (FD30) Standard.
7. Exhibition Stand Fire Doors, Shopping Centre Kiosk Fire Doors, Night Club Bar Fire Doors, Restaurant Bar Fire Doors, Shop Fire Doors.
8. Fire Protection of Exhibition Stands and Fire Protection of Retail Kiosks.
---
Speak to us now for free help and immediate pricing - Tel: 01626 872886
Next Day UK Delivery of all Fire Varnishes
Click here to see the product, check prices or order from our Shop
---
DATA SHEET - Fire Retardant Varnishes
DESCRIPTION AND USE
Intumescent Varnish is used to protect bare or previously Varnished timber and timber based board, where the surface spread of flame, or fire propagation, needs to be controlled. It must be over coated with Fire Varnish Top Coat to provide a Satin or Matt Finish.
INTUMESCENT FIRE PROTECTION
When exposed to a fire Intumescent Timber Varnish expands to create a fire resilient barrier, insulating and protecting the timber surfaces from heat and the oxygen required for fire.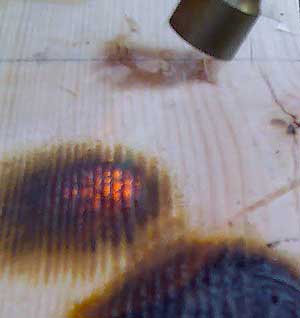 Flame Varnish v. blowtorch - note, no flames.
SAFE MINIMUM THICKNESS OF WOOD - for 30 Minute Standard
A minimum of panel thickness of 16mm is required.
Click here to download our Guidance Notes on upgrading Doors
TO SPECIFY
Prepare and apply Intumescent Timber Varnish to Class 1 and Class 0, or 30 minutes or 60 minutes protection,
Apply one or two coats of Fire Varnish finish (in Gloss, Matt or Satin) according to the Manufacturer's instructions.
FIRE TESTING
Tested to BS476 Part 7; Class 1 Surface Spread of Flame and European Standard BS EN Class B s1 dO.
BS476 Part 6; Fire propagation.
Designated Class 0 in accordance with U.K. Building Regulations.
FIRE CERTIFICATION
We will issue a Fire Certificate upon request for each Project for Insurance, Fire and Building Control Authority and Client Records, provided that you had a free Specification produced by us before purchasing the product.
FINISH AND COLOUR RANGE
Intumescent Timber Varnish is clear and must be overcoated only with the following decorative clear finishes:
Fire Varnish finish - top coating:
Available in Satin or Matt - it is clear, with no colour.
COVERAGE
Class 1 and Class 0: Apply 1 coat of Intumescent Timber Varnish at 6.5 square metres per litre per coat.
30 Minutes: Apply 3 coats of Intumescent Timber Varnish at 6.5 square metres per litre per coat.
In all cases apply at least one coat of Fire Varnish finish at 12 square metres per litre per coat over the Intumescent Base Coats.
APPLICATION METHODS
Brush, roller or spray. Contact us for spray equipment advice
WARNING - The base Intumescent Varnish is a water containing Epoxy, two pack product. It must be very thoroughly mixed in the supplied proportions for at least 3 minutes. ALWAYS apply a small test patch and wait until fully dried before proceeding with full coating. Uneven drying or patchy coverage may indicate 'cissing' - a condition caused by lack of surface preparation. If this occurs please consult us for help.
APPLICATION CONDITIONS (critical)
Ensure surfaces are clean and dry. Maximum timber moisture content 18%. Maximum relative humidity during application and drying 65%. Minimum surface temperature 3°C above dew point, and at least 8 degrees C.
Important warning - these Varnishes will take longer to dry in cool conditions. Do not overcoat unless the previous coat is totally hard and completely tack free.
METHOD AND DRYING TIMES
Prepare the surfaces by cleaning with a degreasing detergent (e.g. Sugar Soap) and abrading to an oil free, matt finish.
Carry out a water droplet or Emulsion Paint dab test - if a water droplet is absorbed or ordinary Emulsion Paint spreads and dries without 'marbling or cissing'. Then try a test patch with the Intumescent Varnish. If it puddles, marbles or pools it will not set properly and the surfaces need more preparation. This problem is called 'cissing' and usually indicates that the surface is repelling the Varnish - it may be affected by wax, oil, wood stains, natural resins in freshly planed timber, timber treatments, greasing hand prints. If 'cissing' occurs repeat the Preparation process and then call us for help.
Apply one coat of Intumescent Varnish (Epoxy based, two pack - if part mixed, use 1 Base to 1 Activator, or the complete pack.).
If the first coat does not spread evenly and set in a totally uniform coat you must strip the surface back to bare wood and solvent clean. Check that the surface will absorb water (droplet test) before re-coating.
After 24 hours (minimum) apply the second or third (subject to Specification) coat of Intumescent Varnish (Epoxy based, two pack).
Leave these two, three or four base coats for 7 days to initially cure. This allows moisture to leave the product. Ensure adequate ventilation and heating during this initial drying period.
Apply one or two top coats of Finish Varnish, with a minimum drying time of 24 hours between coats. Ensure adequate ventilation and heating during drying, but do not accelerate the drying of these coats with more heat, or directly applied heat - this may cause crazing or cracking of the finish coats.
QUALITY ASSURANCE
Intumescent and Fire Varnish finish are manufactured under the principles of BS 5750/ISO 9000.
COMPOSITION
The base Intumescent Varnish is a two pack water miscible Epoxy, whilst the finish Fire Varnish is a polyurethane and is solvent based.
ENVIRONMENTAL HEALTH & SAFETY
Our Intumescent Varnish is made within a low odour, epoxy-based system. Our Fire Varnish finish is made using a low odour, polyurethane based system.
---
'Fire Varnish' is a general term, rather misleadingly used to cover both Fire Varnish finish, used as a top coat to protect the Intumescent Varnish beneath and Intumescent Varnish, which is the base coating.. Class O and Class 1 are Classifications used regarding fire action on the surface of the Varnish, whereas the 30 Minutes and 60 Minutes Standards describe the period of protection given by the underlying expanding layers of Intumescent Varnish against penetration by fire through the treated material.
We can provide an Intumescent Varnish price based on the thickness of the wood or board to be protected and a separate price for the Fire Varnish used as a top coat, which acts as a the finish layer, intended to protect the intumescent base coats.
---
FIRE PAINTS SHOP - fire retardant and intumescent paints
DAMP SHOP - damp proofing and replastering
BORON TREATMENTS SHOP - woodworm, Dry Rot and Wet Rot
EPOXY REPAIR RESINS SHOP - resins for repairing buildings
JOIST REPAIR KITS SHOP - metal plates for repairing joists
MEMBRANE FOR DAMP WALLS & FLOORS SHOP - air gap membranes
MOLD SHOP - treat black mould, paint additives
TANKING SHOP - waterproof walls
TIMBER REPAIR SHOP - repair rotted structural timbers
WOODWORM TREATMENT SHOP - kill woodworm, Death Watch Beetle
---
I Steel Paint I Over Coating Old Paint I Loft Conversion I Colour Charts I Home Page
---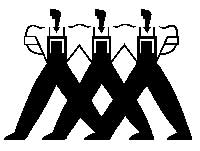 Property Repair Systems
TEL: 01626 872886
E: help@propertyrepairsystems.co.uk
---
Site written by: David Moore
David Moore, B.A. (Hons.), C.T.I.S., C.R.D.S. Technical Author
Google+
---