---
Glulam Beams
Glulam Beams and Laminated Timber Beams are available in any size or shape and in many Species of timber - including Douglas Fir and Oak.
The word 'Glulam' is an abbreviation of 'Glued Laminated Timber'. It consists of lots of relatively thin pieces of kiln dried (KD) timber bonded together with special heat cured adhesive to make large pieces. It is a clever way of manufacturing large timber components that could not possibly be purchased in solid pieces - including curves, arches and unusual artistic shapes.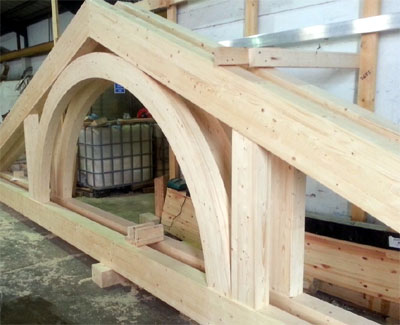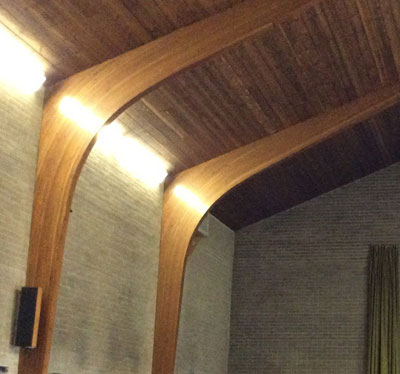 Glulam is used for a range of large span structural beams often to be seen in swimming pool or sports hall roofs, and more recently in large supermarket buildings. Wherever a steel or concrete structure is needed a glulam could also be substituted.
Benefits compared with concrete and steel::
1. Lower cost
2. Lower weight
3. Can be made in a larger range of shapes
4. Green - the wood is from sustainable sources
5. Supplied dry
6. Good looking
7. Easy to fit to
---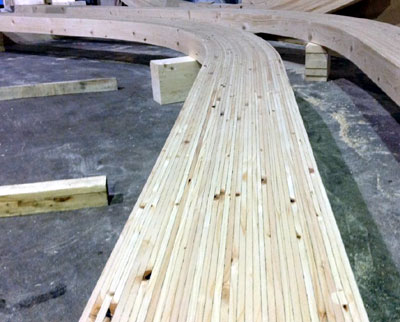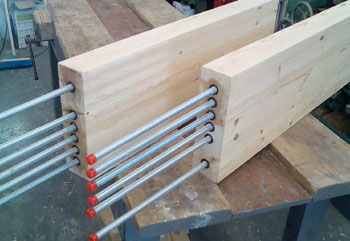 Curved Glulam in production - massive arches can be created. Repair parts for decay Glulams - high tensile steel bars connect.
---
Glulam Beam Repair Methods
Like concrete, steel and wood Glulam beams can decay if not installed and maintained correctly. We can supply treatment materials and repair parts, to both stop decay and repair damage.
1. Rods and Injection - via 10mm diameter holes drilled at 120mm along the grain, 75mm across the grain
2. Gels - to all bolt holes, plate mounting areas, on all screws and nails, to all exposed end grain
3. Resins - to line all holes, plate mountings and metal 'feet' and 'shoes'
4. Repair Sections - to replace badly damaged sections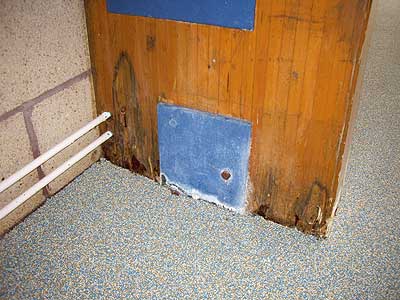 Wet rot in a Glulam Beam in a school swimming pool - this can be saved at this stage.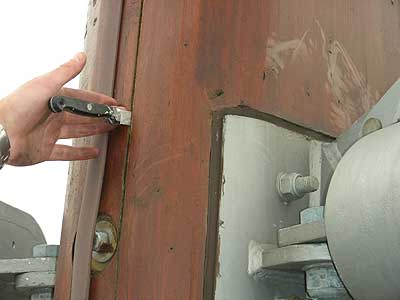 Glulam Rot in a Gym, due to high humidity indoors, compared with Delaminated in a Glulam Post outdoors.
Click for a Site Case Study - produced by one of our Clients, Timberwise - Pizza Hut, Peterborough
---
Glulam Beam Repair Products
1. Boron Ultra Rods - 8mm or 10mm diameter, various lengths, in packs of 10, plastic plugs to suit.
2. Boron Ultra 78 Paste - injected into the same holes, 400cc cartridge with 8mm diameter extension tube
3. Boron Ultra Gel - brushed onto fixings and end grain, in 500cc, 1 litre and 2 litre pots.
4. Mouldable Epoxy Putty - sandable, paintable. In 1 litre pots.
5. Timberbuild Laminate Filler - fine surface crack and glue line filler. In 380cc twin cartridges. Sandable and paintable.
6. Structural Epoxy pouring and injection resins - in pouring and injection grades from 400cc to 7.5 litres.
7. Timber-Resin Splice kits - made to measure, matching laminations and timber species, colour and grain.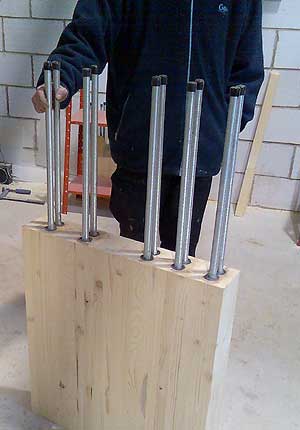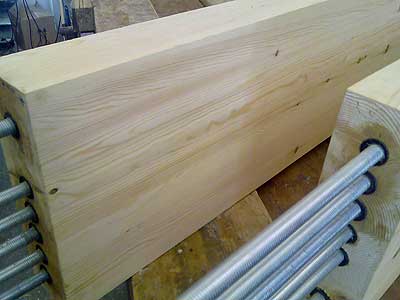 Glulam repair pieces can be made in any size - they are supplied as Kits, with high tensile steel bars fitted.
---
Repairing Glulam Beam complete repair Sections
We offer an extensive range of Timber repair options for all types of buildings, including Churches, Sports Halls, Swimming Pools and Industrial Buildings, in order to avoid removal of structural timber beams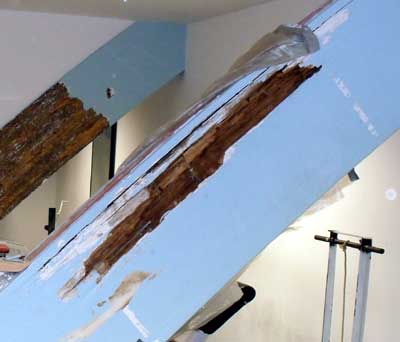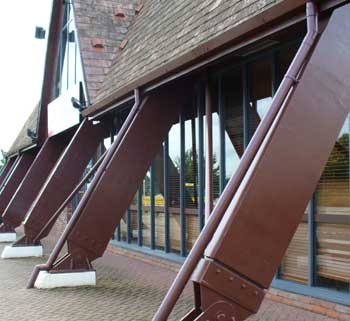 .
Glulam Rot in Structural Frames - indoors, in a Gymnasium. Pizza Hut Glulams, Peterborough, after repairs.
---
In many cases timbers can be repaired in-situ, from inside the building.
Timber-Resin Splice Repair Sections - new pieces of kiln dried, Strength Graded timber made to fit the damaged area, bonded in with epoxy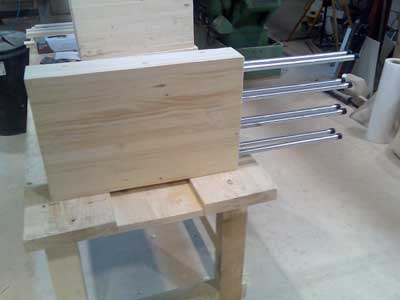 Timber-Resin Splice - a small, new Glulam Section ready for installation.
Cast In-situ Resins - Structural Epoxy Pouring resin and Injection Resins for rebuilding sections, using 'shuttering', where there is no access for a repair section to be introduced.
Boron Treatments - kill Dry Rot, Wet Rot and Woodworm inside the existing timber with Boron-based preservatives. Liquids, pastes, gels and solid rods of Borate all contribute to a long service life for damp timbers
---
Free Glulam Quotation, Repair and Preservation Advice
Speak directly to a real person about your Glulam Preservation needs: 01626 872886
---
Timber Paint I Wall and Ceiling Paint I Clear Varnishes I Top Coats I Fire Doors I Uses I
I Steel Paint I Over Coating Old Paint I Loft Conversion I Colour Charts I Home Page
---
FIRE PAINTS SHOP - fire retardant and intumescent paints
DAMP SHOP - damp proofing and replastering
BORON TREATMENTS SHOP - woodworm, Dry Rot and Wet Rot
EPOXY REPAIR RESINS SHOP - resins for repairing buildings
JOIST REPAIR KITS SHOP - metal plates for repairing joists
MEMBRANE FOR DAMP WALLS & FLOORS SHOP - air gap membranes
MOLD SHOP - treat black mould, paint additives
TANKING SHOP - waterproof walls
TIMBER REPAIR SHOP - repair rotted structural timbers
WOODWORM TREATMENT SHOP - kill woodworm, Death Watch Beetle
---
Property Repair Systems

TEL: 01626 872886
---
Contact | Privacy Policy | Returns Policy | About the Author
---
Site written by: David Moore
David Moore, B.A. (Hons.), C.T.I.S., C.R.D.S. Technical Author
Google+
---