---
Flame Paint and Fire Retardant Paints including Fire Retardant Intumescent Paint
We can save you money and time by giving you the simple, straightforward rules for meeting the Fire Regulations. Just call us or us on 01626 331351 for instant help and advice.
---
MOST FREQUENTLY ASKED FOR CLASS 1 and CLASS O EXAMPLE - QUICK SPECIFICATION SECTION - read more below, if this section does not describe your timber protection job.
---
The most Frequent Request for 'Class 1 and O' Wood Protection - example on bare timber
PAINT - COLOUR FINISH
Choose your Colours - Colour Chart Click Here.

Apply 2 Coats of Intumescent Base Paint followed by 2 coats of Flame Paint - Matt, Gloss or Eggshell - one 2.5kg pack of Intumescent Base will cover 13.5 square metres per coat and one 2.5 litre pack of Flame Paint finish will cover 10 square metres per coat.
Example - bare timber or wood composite boards (e.g. MDF, plywood, chipboard) with two coats at 7 square metres per litre, for indoor domestic dry use, to be covered when finished. If it is to be exposed to wear, or view, you will also require Flame Paint finish, (one or two coats), available in BS and RAL colours and a choice of finishes. Always apply two coats for high humidity areas (like kitchens) or for outdoor use.
Order - Intumescent Timber Paint 2.5kg and Flame Paint 2.5 litres - click here to go to the Fire Shop
---
Benefits: intumescent paints and water based top coats
* water based

* no smell

* no solvents

* thin coats

* no vapour
---
Our unique Fire Retardant Paint Certification Offer
Give us your Fire Paint or Fire Varnish area dimensions and you can have by telephone, fax or E Mail:
- an instant fixed price Quotation to include a Fire Certificate of Supply, Delivery and detailed Specification

- a Building Inspector ready document set, with Data Sheet, for his or her approval

- free product support by telephone before, during and after application, to ensure that you meet the Fire Regulations

Don't get caught out by just buying any old Fire Paint or Fire Varnish - use our Free Service and get it right first time.
---
What Fire Retardant Paint to Buy: click USES to determine the number of coats or call us on 01626 331351.
For a colour finish:
Intumescent Paint - apply 2 or 3 coats, or according to the Fire Standard required by your Building Inspector.

Flame Paint Finish - apply 1 to 2 coats, according to durability - indoors/outdoors, high/low wear finish required.
---
Typical Fire Retardant Paint Coverage: click SHOP to see the details
For a colour finish:
Intumescent Paint - 7 square metres per litre, 13 square metres per 2.5kg (1.9 litre) pack.

Flame Paint Finish - 10 square metres per litre, 25 square metres per 2.5 litre pack.
---
Prices, Discounts and Delivery: call 01626 331351 for full details
Prices - some prices are lower than given above when purchased in larger pack sizes, see SHOP to see the details

Discounts and Trade Sales - call us for details

Delivery - Same day despatch, Next Day Service, UK Mainland - £10 plus VAT
---
Fire Retardant Paints are suitable for:
1. Fire Proofing Steel in portal frame buildings, industrial units and mezzanine floors

2. Fire Proofing Wood, including fire proofing Melamine covered boards, plywood, chipboard and MDF

3. Fire Proofing over existing painted or stained finishes

4. Flame Paint in white, black and B.S. or R.A.L. colours

5. Fire Regulation paints for Loft Conversions, Hotels and Care Homes

6. Fire Paint door upgrades to modify existing solid wood doors to 30 minutes (FD30) Standard.

7. Fire Proof Exhibition Stands, Shopping Centre Kiosks, Night Club Bars, Restaurant Bars, Shop Fixtures, Shop Shelving.
---
Speak to us now for free help and immediate pricing - Tel: 01626 331351
Fire Certificate of Supply
Certificates for: Class O and Class 1, 30 minutes, 60 minutes and 90 minutes Fire Resistance, Timber and Steel.

Colours: Clear Varnish and all B.S. and RAL Colours available ex stock for Next Day Delivery. For a RAL Colour Chart Click Here.

Finishes: Matt, Eggshell, Gloss and Metallic.
---
What you really need to know about Fire Retardant Paints:
TYPES OF PAINTS and VARNISHES - there are two types of Fire Paint and Fire Varnish:
Fire Retardant Paints and Fire Retardant Varnishes are used to stop the spread of flame on a surface by releasing an inert, safe gas and are tested to assess their effectiveness under BS 476, part 7. These are used in all rooms for walls and ceilings. They are also used on top of base coats of the Intumescent (swells up in heat) paint or clear varnish, because these base coats are too soft to be durable if exposed to wear or high humidity.

Intumescent Paints and Intumescent Varnishes swell and char when exposed to fire. They work by insulating the building material from heat. They are softer, so require a top coat of Fire Retardent Paint or Fire Retardent Varnish. They are always needed as base coats on combustible materials, like wood and on products that warp in fire, like steel.
---
TEST STANDARDS - there are three relevant fire test standards
Class 1 - requires no surface spread of flame.

This is the Standard normally required for walls and ceilings.

Class 0 - is an additional level of protection for walls or ceilings where limited combustibility is required in high-risk areas, such as escape routes.

To comply materials must have a Class 1 Surface Spread of Flame and low fire propagation index in accordance with BS 476 Part 6. This test checks that the coating does not add to the heat or intensity of the fire.

Fire Penetration Resistance - 30 minutes or 60 minutes.

Intumescent Coatings are used to prevent the penetration of fire through a structure for a specific period in accordance with BS 476 Parts 20 - 23 1987. Such coatings are given classifications for specific periods of time, such as "30 minutes". Intumescent systems are available for protecting structural timbers, steel and plasterwork (including plastered and plaster boarded walls and ceilings).
---
CERTIFICATION - why you will need a Certificate of Supply
A Fire Certificate of Supply can be issued for each Project. This is essential if you have to satisfy your Insurers, the Fire and Building Control Authority and for Client Records. Without a Fire Certificate you may be vulnerable to prosecution in the event of a fire. We cannot issue a Certificate of Supply if we have not produced a Specification in the first place, so please do not buy paints without asking for a Specification.
COLOURS
BS and RAL Colour Range, plus five Metallic Finishes, plus clear Varnish. For a RAL Colour Chart Click Here.
FINISHES
Matt, Eggshell and Gloss.
DRYING TIMES
Consult the individual product pages - in general Intumescent base coats require at least 4 hours to dry between coats and will not tolerate high humidity or rain. Finish coats cannot be applied to the final Intumescent coat for up to 10 hours. Gloss Finish paint requires 12 hours between coats. All other paints in the range behave like normal water based finishes, subject to the drying and surface conditions at the time of application.
---
How to comply with Class 0 and Class 1 - comply with both in a single system
For timber and timber products, painted or unpainted, EXCEPT DOORS.
Colour coating:
1. Timbercoat Intumescent - two coats, by brush, roller or spray - 7 square metres per litre per coat.

2. Flame Paint Retardent finish - two coats, by brush, roller or spray - matt, vinyl or silk, gloss, eggshell or metallic - 10 square metres per litre per coat.
Clear coating:
1. Fire Intumescent Varnish - two thin coats by brush, roller or spray - 6.5 square metres per litre per coat.

2. Fire Varnish finish - one or two coats by brush, roller or spray - 10 square metres per litre per coat.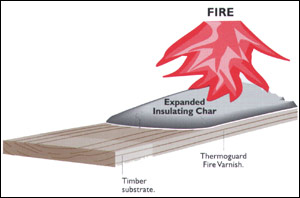 Over coating old paint layers:
For plasterboard, plaster, brick and concrete products, that have a thick layer of old, non-retardant paints.
1. Wallcoat - one coat, by brush, roller or spray - 7 square metres per litre per coat.
2. Flame Paint finish - two coats, by brush, roller or spray - matt, vinyl or silk, gloss, eggshell or metallic - 10 square metres per litre per coat.
Note - the second coat can be a Flame Retardant Anti-Graffiti or Hygiene Paint.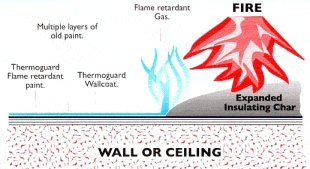 ---
How to provide 30 - 60 minute protection
For steel and cast iron products, painted or unpainted, EXCEPT DOORS.
1. High Build Primer - apply one coat by brush, roller or spray - 12 square metres per litre - 150 microns (wet).

2. Intumescent Steel Paint - typically, apply one coat by brush, roller or spray for up to 30 minutes protection, two coats for 60 minutes protection - at about 2 square metres per litre per coat. This is only a very general example - steel paint coverages need to be calculated by us for each different section size and then converted to a paint volume. This is a free of charge service.

3. Flame Paint Top Coats - to cover and protect the Intumescent paint where either it is to be temporarily exposed during Construction, or left permanently exposed after completion. Intumescent Paint can ONLY be used alone where it will be protected by coverings or casings, and will always be inside a dry, indoor environment.

A typical brush coating can be applied at up to 600 microns thick (wet) or by sprayer at up to 1200 microns thick (wet). A simple plastic wet film gauge is supplied with the paint.

500 microns wet = 2 square metres per litre = 0.5mm thick

1000 microns wet = 1 square metre per litre = 1mm thick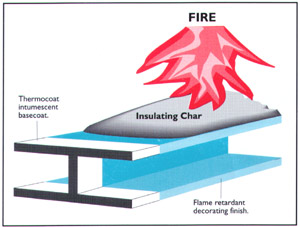 ---
Steel Specification and Costing
We will convert your steel measurements, or information from a Plan into surface areas to be treated. This will allow us to calculate the thickness and volume of Intumescent Fire Retardent Paint required.

You can download a copy of the Steel Calculation form and drawings of the different types of steels commonly used in building here - Steel Form and Steel Types.

The crucial information is the thickness of the steel - this affects the thickness of the Intumescent Paint coating required to meet a particular Standard.
---
Doors
Sometimes it can be cheaper to buy factory built Fire Doors. For multiple doors and Historic Buildings, where doors must be saved, please give us a call to discuss your options. We will need exact details of the construction of each door and some photographs would help. Give us on call on 01626 331351 for FREE help with your Fire Door Specification.

SAFE MINIMUM THICKNESS OF WOOD - to meet the 30 Minute Standard

A minimum of panel thickness of 10mm is required.

When using Ultra Door Protection for upgrading standard doors to 30 minute fire doors, it must be used as part of an overall program to include intumescent fire/smoke seal and lock, hinge and door closer Intumescent protection card, or as Specified by your Building Inspector.

As a general guide, uprating is likely to include the following;

1. Preparation of the doors to take intumescent fire/smoke seals and lock, hinge and door closer intumescent protection cards. We can offer surface mounting Intumescent Seal Strips, which are self adhesive and mount inside the door frame. This type of seal enables you to avoid removing the door to cut slots.

2. Three coats of Ultra Door Intumescent Fire Paint or Varnish base, followed by two top coats of Flame Paint or Flame Varnish Finish (Eggshell or Gloss).

3. Additional panels or Veneer may be required to meet the minimum thickness requirements - we can manufacture this for you - please ask for a Quotation.
---
Free Advice - we supply free specifications and product quotations
Speak directly to us about your Fire Retardant needs: 01626 331351
Please do not take a risk and simply buy products without a clear specification from an expert. You may not be able to obtain a Fire Certificate of Supply in those circumstances.
Intumescent Paints, Coatings and Fireproof Varnish from Property Repair Systems

Our manufacture supplies protective intumescent paints, flame retardant paints, fire varnish, intumescent wood paint and fire proof paints.

A range of decorative flame retardant paint finishes protect, decorate and complete fire protection systems for portal frame buildings.

Flame retardant paints and intumescent steel paints assist in the control of fire hazards caused by combustible materials, such as wood in buildings, by releasing a flame extinguishing gas.

Available in gloss or eggshell finishes to any BS 4800 or RAL colour and in any quantity. Small UK orders acceptable. Also available in five metallic finishes and one non-decorative finish for hidden areas.

Assisting in fire protection, we stock a wide range of protective fire varnishes, intumescent paints, fire proof paints and also intumescent and flame retardant steel coatings to keep the surface below the critical temperature.
---
'Fire Paint' is a general term rather misleadingly used to cover both Fire Resistant Paint, used as a top coat to protect the Intumescent Paint beneath and Intumescent Paint or Intumescent Varnish, which are both fairly soft coatings used as primers. Class 1 and Class O are Classifications used regarding fire action on the surface of the paint, whereas 30 Minutes and 60 Minutes describe the period of protection given by the underlying Intumescent layers of Intumescent Paint or Intumescent Varnish against fire penetration.

We can provide an Intumescent Paint price based on the thickness of the wood or steel to be protected, and a separate price for the Fire Rated paint used as a top coat, which acts as a retardent fire layer, producing an inert gas to protect itself.
---
Property Repair Systems
TEL: 01626 331351 FAX: 01626 331143
E: help@propertyrepairsystems.co.uk
---
Contact | Privacy Policy | Returns Policy | About the Author
---
Site written by: David Moore

David Moore, B.A. (Hons.), C.T.I.S., C.R.D.S. Technical Author

Google+
---